4000-fire Extinguisher Tamper Flag Seals (6 Colors)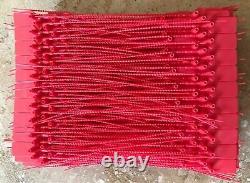 Afety doesn't happen by Accident! HELLO & THANKS FOR STOPPING BY! UP FOR YOUR CONSIDERATION IS A. FIRE EXTINGUISHER MISSING SAFETY SEAL.. DON'T TAKE THE CHANCE OF ACCIDENTAL DISCHARGE &.
DON'T WIRE IT UP! Extinguisher Tamper Seals are Critical Components. In order to keep an extinguisher from being inadvertently operated, the extinguisher's pull pin must be in place and a tamper seal installed, which keeps the pull pin in place.
During a fire emergency, the tamper seal must break easily, allowing the pull pin to slide out of its slot. Once the pin is out, the extinguisher can be operated. To ensure proper operation and safety, only listed tamper seals are permitted to be used. I have been in the fire extinguisher/fire protection business since 1974..
These are the exact seals i use in my daily service & are the Highest Quality available in the Industry. THEY HAVE THE PROPER 14lb BREAK POINT.

---