Element E50 Portable Compact Fire Extinguisher + Tactical Kit Sleeve & Straps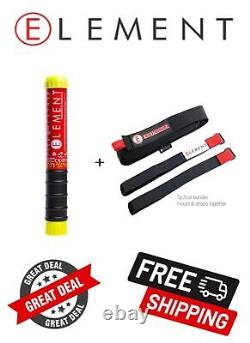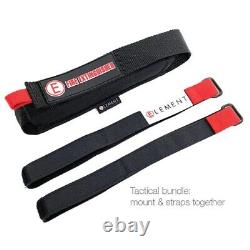 Element E50 Portable Compact Fire Extinguisher + Tactical Kit Sleeve & Straps. Element E50 Portable Compact Fire Extinguisher 50 Second Discharge Non-Toxic! Offering 50 seconds of fire fighting protection, E50 is recommended for professional use (automotive, power sports, garage, marine, etc). E50's extremely small and lightweight construction allow for storage almost anywhere. 50 second discharge: More than 4x longer than a 5lb fire bottle.
Compact and easy to use: 30cm (11.75") tall, 3.2cm (1.2") diameter, 230 grams (0.6lbs) weight. Makes no mess & leaves no residue. Clean and Eco-friendly: No mess, non-toxic, non-corrosive, environmentally friendly. Zero thrust discharge: Will not spread oil & liquid fires. Safe and maintenance free: No moving parts or compressed gas to ever service.
Fights all major fire classes: A, B, C, & K (cooking oils and grease) fires. E50 extinguisher with high visibility striker and cap.
One (1) Mounting clip included. Element MNT-TAC-KIT Tactical Kit For E50 E100 Fire Extinguishers Sleeve & Straps. Made in the USA of high quality materials, the durable construction of these straps and sleeve offer a secure way to mount or carry your Element E50 & E100 fire extinguisher. The Element Fire Extinguisher Tactical Kit with Sleeve and Straps is a comprehensive firefighting solution designed to equip you with the necessary tools to extinguish small fires effectively. The kit includes a high-quality fire extinguisher that is easy to use and operate.
It is made of durable materials that are resistant to corrosion and impact, ensuring its longevity and reliability. The tactical kit comes with a sleeve that fits snugly around the fire extinguisher, providing protection from scratches and dents.
The sleeve is made of heavy-duty nylon that is water-resistant, making it suitable for use in different weather conditions. The kit also includes straps that allow you to secure the fire extinguisher to your backpack, belt, or any other convenient location for easy access. Fits E50 & E100 extinguisher (not included). Durable nylon construction with high strength Velcro ensures a strong and reliable mounting.
Sleeve and 2 Tactical Straps Included. 3 re-enforced loops on back allow for multiple mounting options including on a belt, molle panel, roll hoop, and more. Most Items Delivered in 3 Days or Less. We want you to get your item FAST. For most orders placed Monday through Friday before 1pm EST we are able to get your order out the door that day.
Your satisfaction is our top priority and we'll strive to make sure every customer is 100% satisfied. We are committed to providing you a quality product at the lowest prices possible. We also realize that the quality of the customer service we provide you plays hand and hand with the product you receive. All Sales final on Racing product once the item has been opened or wrapper removed. We strongly encourage professional installation of any electronic devices.
We are not responsible for any damage caused by improper installation. We are not responsible for any damage caused by defective products or loss of use, uninstall/reinstall charges that may be incurred due to defective products. By purchasing your product from us you agree to these terms and conditions with NO exceptions.
We do not allow local pick-ups or drop-offs. No third party billing offered.
Any defective item may be exchanged for the exact same item. Items without a return authorization number clearly marked on the outside of the package will be refused. We hope you feel comfortable with our policies, as we have done extensive market research and have continuously upgraded our policies to make our customers shopping experience the best it can possibly be.
Our Mission at RaceChoice is to Provide Quality Racing Safety & Performance Parts from the Best Brands in the world at Affordable Prices to Racers. Our customers have grown beyond our friends and family, but you are more than a customer. You are a fellow racer.
We want race culture to endure, and we want to share this passion with as many people as we can. The crew at RaceChoice have spent 15 years offering the best prices on Racing Performance Parts & Safety Equipment.
We have even more time than that behind a wheel. If you need help with finding the right parts we are here for you. Whether you're waiting for a light or a flag to drop we want you to enjoy this sport with the best in performance and most importantly...

---