Elide Fireball Extinguisher Fire Safety Ball Throw Into Fire To Extinguish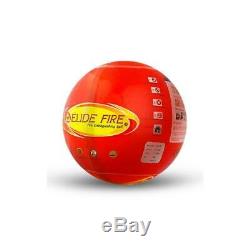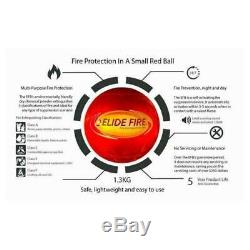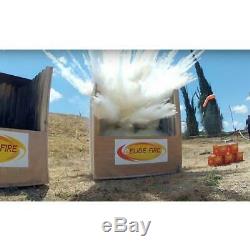 Elide Fireball Extinguisher - Fire Safety Ball - Throw Into Fire To Extinguish. Elide Fireball Extinguisher - The Simplest And Quickest Fire Extinguishing Method. The Elide Fire Ball is an innovative, pyrotechnic, fire extinguishing device, weighing a mere 1.3 kg, with an effective extinguishing range of 360 degrees and up to 4m. No need for prior knowledge or specific training. It is simple to operate and lightweight enough to be used by almost anyone, including children.
With the Elide Fire Ball you can extinguish out any type of fire without getting close to the fire and the danger that involves. With the outbreak of the fire, the Elide Fire Ball needs to be thrown/rolled into the source of the fire.
A special mechanism activates the ball within 3-10 seconds after coming into contact with fire. The active ingredients inside the ball extinguish the fire immediately. To operate effectively, the Elide Fire Ball needs to be installed in an open and easily accessible position.
When fire breaks out while no one is present, the Elide Fire Ball is activated upon coming into contact with a naked flame (or high degree of heat) and extinguishes the fire at the source - while sounding a loud audible alert (as an explosion) - drawing attention to the danger. For automatic operation, the Elide Fire Ball needs to be installed 10-30 cm above the spot where fire is likely to combust e.
The Elide Fire Ball can be utilised almost anywhere. Due to its characteristics, using the Elide Fire Ball will be the fastest and most effective method to extinguish or prevent the spread of fire. Possible installations would be in kindergartens, schools, hospitals, home, office, factories, warehouses and even in vehicles. The Elide Fire Ball can be easily placed anywhere: in hallways, corridors, on top of shelves & desks, against the wall or anywhere with easy access. Due to its unique ability to automatically activate when coming into contact with a flame, it is highly advisable to install it near places which have a high tendency to develop ignitable situations such as electrical cabinets, kitchen stoves, heavily loaded electric sockets, gas cylinders and other combustible materials. THE ELIDE FIRE BALL CAN HANDLE DIFFERENT TYPES OF FIRES. CLASS A: Ordinary combustible materials such as paper, cloth, wood, rubber, plastic and so on.
CLASS B: Flammable liquid substances such as gasoline, diesel, alcohol, tar, etc. CLASS C : Electrical - All electrical fire where the electrical component may be either passive or active, such as electrical equipment, fuses, computers, power sources, etc. CLASS D: Gas - all flammable gases. CLASS E: Metalic - light metals such as magnesium, lithium and aluminum and their compounds. The Elide Fire Ball contains dry fire extinguishing powder - ammonium phosphate mono (about 94% active material) - it is a dry chemical fire extinguisher, environmentally friendly and safe for humans, plants and animals.
Orders are packed and dispatched very quickly. If you order before 12:30pm Monday to Friday we will ensure you order gets dispatched on the same day. If your order is placed over the weekend your order will be dispatched on the following Monday. We deliver to most destinations across Australia within 1 to 7 days.
We apologise in advance if this happens. Please note that Transit times exclude weekends and public holidays.
Custom printed t-shirts; Please allow an additional 2-4 days for processing. With this being said the carriers usually do deliver quicker than Australia Post and in most cases this counter-acts the 24-48 hour addtional processing times.
The hippie house is an online hippie shop that stocks a wide range of different products including natural beauty items, perfumes, incense, clothing, herbal care and storage devices, decor, hydroponics including LED grow lights and so much more! Join Our Exclusive Newsletter For Up To Date News, Special Offers And New Arrivals. Get in touch with us. O BOX 5166 Townsville QLD 4810.
The item "Elide Fireball Extinguisher Fire Safety Ball Throw Into Fire To Extinguish" is in sale since Friday, August 14, 2020. This item is in the category "Home & Garden\Yard, Garden & Outdoor Living\Hydroponics & Seed Starting\Environmental Controls". The seller is "the-hippie-house" and is located in Townsville.
This item can be shipped worldwide.
Brand: Elide
MPN: ST-EXTIN-1
Type: Fire Extinguisher

---