First Alert PRO10 Fire Extinguisher 10 lb Commercial Use US Coast Guard Approv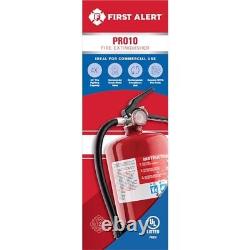 The First Alert 4-A:60-B:C rechargeable commercial fire extinguisher ideal for large commercial needs. Our largest multi-purpose use extinguisher fights flammable liquid, electric, wood, paper, fabric and other types of fires. Durable metal head is designed to meet demanding commercial use requirements. If discharged, this unit can be recharged by a certified professional. Includes commercial strength wall mounting hook to keep unit secure.
UL rated class 4-A:60-B:C extinguisher. Commercial grade metal valve and trigger. Ideal for commercial and special applications. Fits inside standard fire box. Mono ammonium phosphate extinguishing agent. Easy to read color coded gauge provides accurate measurement. We are a full size hardware store. Please note: The photo of the product is for reference only and not a photo of the actual item. The item you will receive will be factory sealed and may be packaged different. We just want you to be aware of this!

---