Halon SS-30 Fire extinguisher Automatically Deploy 90 degree head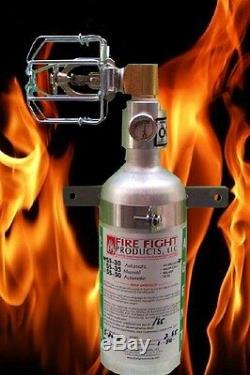 This listing is for one SS-30 with 90 degree head Auto Deploy Fire Extinguisher set for 155 degree. "Automatic" means our systems have a heat sensitive "thermal" triggering device similar to that in a commercial office building "automatic" fire suppression system. When the heat in the area reaches the threshold of the sensor, the fire suppression system is released and you are protected from whatever heat source has caused the problem. No switches, no deployment procedure, if you have heat in the compartment, you have fire protection-- it's just that simple! NOTE : The mounting bracket comes with unit, but the design may vary compared to the listing picture. Web site for more information. Below are a few unique product listed there. This system is designed to be installed into an engine compartment, for special installations, a remote mounted head kit is also available. For fire protection in a smaller enclosed refrigerator rear compartment or generator compartment, these systems are compact and designed to give good protection in these smaller compartments. Everyone needs a " grab-n- go " fire extinguisher next to the entry door, in the galley area and next to the driver seat to give you added protection for unexpected situations, but what if you are not there when the fire starts. Who going to put the fire out? That the reason you want to order a extinguisher that will be on duty 24 hours a day to put out a fire while you are away, a sleep, or small kids, family pets or the elderly that would not be able to fight a fire.. The Fire Fight1 series of AUTO-Deloy Fire Extinguishers can and will do the JOB...
<<<<<< Important Notes about these Halon systems >>>>>>>>. O "Halon" is a gas, it will not cause damage to your vehicle as powder systems do.
It literally smothers the fire! O Used in professional application race cars, the military, professional applications world wide and it can be in your coach too! O No, Halon is not produced anymore so all the more reason you should get this protection now while you can! O No, it is not illegal, it just can no longer be produced.
Fire Fight still has access to this awesome fire fighting tool. O Yes, you should not be in a room where Halon is released, it will "smother" you like it does the fire! Just 5% will not allow a fire to breath. O Until it is no longer available, Halon is a great fire fighting aid.
O All of these systems are easy to install, just locate it's bracket in the compartment and snap the unit in place. The tank mounted gauge lets you check to be sure the unit is charged and ready for use. Hot transmission fluid dripped onto the hot areas and continued burning even after the fire fighters got the flames out-- there was nothing they could do! This is some exciting news and some exciting product-- stay tuned for more on this new fire suppression system rollout.
Several of the models available are shown in this listing. The mounting bracket may change without notice, this is the factory choice.
We have not control over factory changes of bracket styles for mounting. Clean Agent Gas is simply put one of the best fire extinguishants known to man.
The term Clean Agent Gas refers to Halon 1211 and 1301, HFC227 and FE36 among other gas formulations that are designed to deprive oxygen from a fire situation effectively taking away the ability of a fire to ignite & burn. This concept of fire suppression has been extremely effective for decades and is still the best way to stop fire in a closed environment and eliminating damage from the fire as well as from fighting the fire. Of all of the clean agent gas listed above, we offer HFC227 which is arguably the most potent for of this fire suppressant. Here are some facts about these Clean Agent Gas formulations.
Clean Agent Gas has three times the fire fighting effectiveness of CO2 extinguishers. Clean Agent Gas does not damage the fire area as Dry Powder extinguishers do. The saying goes, whatever is hit with a dry powder extinguisher, whether it is burned or not will usually need to be replaced due to damage from the caustic, corrosive dry powder itself. We understand that in the case of fire, the first consideration is and should always be to protect life and to try to put out the fire but you also must consider life after the fire.
Clean Agent Gas is discharged as a liquid immediately converts to a gas with fast breakup into the atmosphere. This makes it easy to direct and it reaches into hard to penetrate places where a fire or its ignition source may be.
Clean Agent Gas is non-conductive of electricity and is effective on all three classes of fires (A, B & C). The item "Halon SS-30 Fire extinguisher Automatically Deploy 90 degree head" is in sale since Monday, January 7, 2013. This item is in the category "Business & Industrial\Facility Maintenance & Safety\Fire Protection Equipment\Fire Extinguishers".
The seller is "dforce1029" and is located in Memphis, Tennessee. This item can be shipped to United States.
Model: SS30-90
MPN: Does Not Apply
Brand: Firefight

---