Ougist 6 Pcs Fire Extinguisher with Mount 4 in-1 Fire Extinguishers for The Ho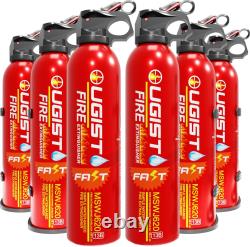 Ougist 6 Pcs Fire Extinguisher with Mount - 4 in-1 Fire Extinguishers for The House/Car/Kitchen, A, B, C, K Category Portable Water-Based Fire Extinguishers(620ml). 97% Negative Ion Water, 3% Fire Extinguishing Agent.
-Ougist kitchen fire extinguishers is based on a non-toxic and biodegradable formula, no need to worry about leaving residue or causing a mess. It will not cause irritation to you or the surrounding environment. -Are you worried about the threat of fire to your family and property? Ougsit home fire extinguisher provides you with a precise fire extinguishing solution, and it can be quickly applied after a dangerous situation to escort your safety. - Mini fire extinguishers have a height of 11.7 inches / 30cm, a width of 3.3 inches / 8.4cm, and the spraying distance can reach 13 feet and compact packaging can be stored in the car or anywhere in your home, at any time to provide you with safety.
-The fire extinguisher is suitable for extinguishing solid material fires, combustible liquid fires, electrically charged material fires, cooking oil fires, and other A, B, C, and K type small fire incidents and stop them before they become a bigger disaster. Your satisfaction and safety are our top priorities. Please be aware that the production date (MFG: XX-XX-XXXX) is printed on the bottom of the bottle for your reference. We advise you to use a reputable carrier service when returning your goods. We guarantee that your issue will be solved quickly.
We usually respond within 24 hours on weekdays.

---